Our Story
Former NFL linebacker Darryl Sharpton and his wife, Jessica, discovered a problem: buying a sofa sucked.

After shopping in an over-priced "designer" showroom and being overwhelmed with hundreds of sofa options (that were all basically the same), Darryl and Jessica Sharpton left the showroom mentally fatigued. Adding to their frustration, it would take 4-6 weeks for their new sofa to arrive. As they anxiously waited for their new couch, the entrepreneurial couple began drafting a plan to disrupt this archaic way of buying a sofa.

First, Darryl and Jessica focused on eliminating decision fatigue for sofa shoppers. Shoppers didn't need 150+ options; so they designed 3 gorgeous collections that collectively satisfied the needs of everyone AND could be delivered for free to your front door. This method is not only faster but much more convenient and less expensive — these savings get passed on to Albany Park customers everyday.  Albany Park furniture comes packaged in apartment-friendly, space-conscious boxes that can easily be maneuvered in stairwells, tight hallways and throughout any home. Albany Park is radically changing the way people shop for sofas.
Our Founders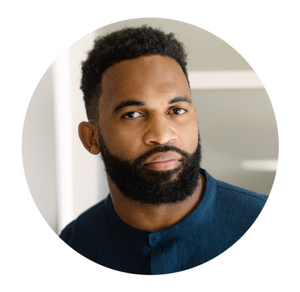 Darryl Sharpton
Co-Founder & co-CEO
Darryl Sharpton is a creative visionary with an entrepreneurial spirit that has been with him since his adolescent days. He serves as the co-founder and co-CEO of Edloe Finch, parent company to Albany Park, leading product development, design, and marketing strategy.

Darryl previously ran a brick-and-mortar furniture store, however quickly realized that e-commerce was the future and subsequently, joined forces with his wife, and fellow co-founder, Jessica Sharpton to self-fund and start Edloe Finch.

Initially an online wholesale distributor for retailers such as Amazon, Wayfair, and Walmart, they eventually extended their business to a direct-to-consumer retail model with the launch of their disruptive, flagship brand, Albany Park, in 2019. Albany Park set out to make it easy for people to anchor their homes with comfortable sofas that are efficiently packaged, and easy to maneuver in homes with tight spaces.

Prior to co-founding a company that has experienced 300%+ growth from conception to grossing over 58 million dollars in sales in 2021, Darryl was an NFL Linebacker playing for the Houston Texans and the Chicago Bears.

Darryl received a full football scholarship to play in his hometown at the University of Miami where he also received his Bachelor's degree in Finance.
Jessica Sharpton
Co-Founder & co-CEO
Jessica Sharpton is the co-founder and co-CEO of Edloe Finch, parent company to Albany Park, serving as the lead for finance, operations, and logistics. Not only does Jessica manage staff productivity, vendor relationships, and oversee production quality control, she also leads implementation of all technology initiatives, ensuring the business is producing at the highest level to best meet the needs and demands of their growing customer base.

Prior to her current role, Jessica worked in the valuations group at PricewaterhouseCoopers (PwC), advising businesses on the value of their assets to support successful raising of capital and strategic planning. She ultimately left PwC to join a boutique consulting firm where she worked for several years, helping large corporations implement technology transformations, before joining forces with her husband, Darryl Sharpton, to start Edloe Finch.

Jessica received a scholarship to play soccer at Rice University in Houston, Texas, where she also received a Bachelor's degree in Economics.
Facts & Figures
Darryl Sharpton sold the first sofa from his college apartment

Albany Park Website was launched

Albany Collection was launched as the first Albany Park Collection

Park and Kova Collections completed the Albany Park portfolio

Albany Park launched the Ẹkáàbọ̀ Collection

Two new Ankara prints were added to The Ẹkáàbọ̀ Collection

Albany Park was recognized as one of the Fastest-Growing DTC Brands of 2021

More XL configurations added to the Kova Collection
300%+
GROWTH
year over year
44K+
Orders Shipped
to date
Awards
Best Online Furniture & Home Decor 2020
A cozy home begins here.TM